Zero-point
Further up and about 23kms from Yumthang at an altitude of over 15,000 ft is the place Zero Point  (also known as Yume Samdong). It takes another 1.5 hours from Yumthang by vehicle (about 3 to 3.5 hours from Lachung). This is where the civilian road ends and you can't drive any further and hence the name Zero Point. A short distance away from here is the border with China and tourists are not allowed to go any further beyond the Zero Point.
So what do you expect in Zero Point? While the road is quite treacherous, the rewards are awesome. Zero Point or Yume Samdong is the place where three rivers meet with surrounding snow-clad mountains and offering marvelous scenic views. You can often see yaks grazing in the snow. There is hardly any vegetation in Zero point other than some stretches of grassy land which becomes visible when the snow melts.
Zero Point is the place which remains snow covered for most part of the year. So if you want to see and enjoy snow, then visit Zero Point and you won't likely be disappointed. There are also Hot Springs in Yume Samdong at the river called Sebu chhu. Donkia-La pass is also located here (at an altitude of 18,400ft which connects Lachung Valley with Lachen Valley). However you can not access the pass.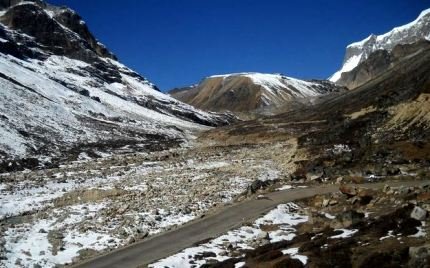 At Zero Point you will find a few temporary stalls where locals sell snacks Magi noodles, eggs, chana masala etc. You can get tea/coffee (and surprisingly even alcohol). There are no toilet facilities here though.
Note that due to the high altitude of Zero Point, oxygen in the air is low and there can be breathing problems for few. So you should avoid visiting the place with an asthmatic or an infant.
.