Yumthang
Yumthang valley is about 25kms from Lachung located at an altitude of 11,800ft and takes about 1.5 hours of drive. The name Yumthang Valley means 'Valley of Flowers'. So you know what to expect.
But the name would have been more appropriate if it said 'Valley of Rhododendrons'. Because here as the tree line ends and the vast stretch of flowering valley exposes a dense bed of rhododendron flowers for miles and in many different colors like purple, blue, red, pink etc.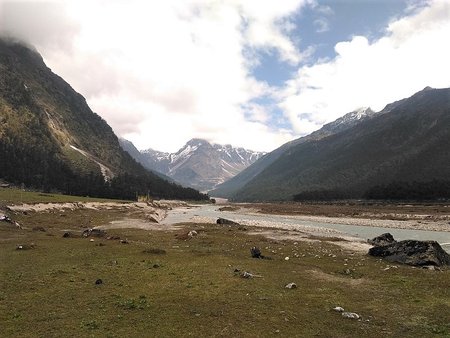 The rhododendrons bloom between March to May. Visit the Shingba Rhododendron Sanctuary which spans across 34 square kilometers area here near Lachung and has over 38 different varieties of rhododendrons. The sanctuary beats out its competitors like Dzongro, Barsey, Zema in Lachen because of its sheer variety and spread of colors. You can see some great species such as arboretum, grande, nivale, the state flower etc. State Forest Department holds International Rhodendron Festival here annually between March to May during the peak flowering season.
Other than the wonderful views of vast valley of flowers, Yumthang also offers lovely views of the mountain peaks such as Pauhunri and Shundu Tsenpa forming the backdrop of the river Teesta.
Yumthang – River Teesta with backdrop of the mountains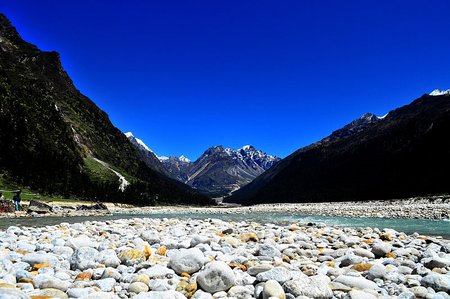 Before entering the Yumthang Valley, a pedestrian pathway goes over a small bridge and reaches Yumthang Hot Spring. You will need to walk for few thousand yards to reach the hot spring. In such a cold climate, this surprisingly natural warm water comes as a pleasant surprise. The water is rich with sulfur and said to have good healing and medicinal value. The spring water here is directed to a hut and couple of pools inside so that one can take a healing bath here.
Nearby there are couple of rivers – Yumthang chu and Puniya chu where you can do fishing if you have time. But for that you need to plan a longer stay at Lachung. About 7kms further north of the hot spring, there is a Shiva Temple.